De stichting Voeggarant is opgezet voor en door kleine bedrijven in de voegbranche. Het doel van de stichting is in samenwerking met de deelnemers de kwaliteit te waarborgen in onze sector. Ook het uitdragen van het vakmanschap staat hoog in het vaandel. Er wordt tevens een vangnet gecreëerd voor de zelfstandige professional, waarmee wij zekerheid bieden aan de opdrachtgever(s).
Of het nu gaat om het voegen van een aanbouw, een complete gevelrenovatie van uw woning of het restaureren van een monument; door het werk te laten uitvoeren door een "Erkend Deelnemer" van Voeggarant heeft u de zekerheid dat het bedrijf de nodige ervaring, diploma's en/of certiferingen bezit. Ook zijn de bedrijven goed verzekerd en worden regelmatig gecontroleerd op de werkplek. Er wordt gewerkt met goede afspraken op papier d.m.v. opdrachtbevestingen. Beide partijen weten wat er van elkaar verwacht wordt. Tevens kunt u met de deelnemer een garantie afsluiten. Zo heeft u de zekerheid dat het werk keurig wordt opgeleverd, mocht het bedrijf door ziekte of financiële problemen de werkzaamheden niet kunnen afmaken.
Een bedrijf bij u in de buurt vindt u onder "Erkende Deelnemers".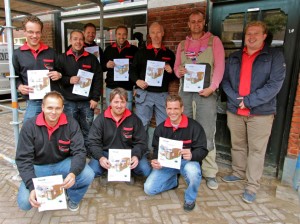 Sociaal maatschappelijk ondernemen
Stichting Voeggarant heeft oog voor sociaal maatschappelijk ondernemen. Voor het bouwen van onze website heeft stichting Voeggarant bewust gekozen voor ICTerium, niet alleen vanwege hun kwaliteiten maar ook helpen we daarmee mensen met een arbeidsbeperking hun talenten in de ICT te ontplooien en aan zicht op passend werk of behoud van werk. Wil je meer weten over ICTerium klik op het logo.
Stichting Voeggarant
De Stapeling 10, 8447GN Heerenveen
+31(0)6 – 422 534 66